Are you tired of spending hours in the kitchen, trying to whip up a delicious meal? Look no further! We have just the thing to make your life easier and your taste buds happier. Introducing "10 Easy Cooking Hacks for Tasty and Simple Meals" – a collection of clever tips and tricks that will save you time, money, and effort in the kitchen. Whether you're a seasoned chef or a beginner cook, these hacks will surely elevate your culinary skills and impress your friends and family. Get ready to embark on a flavorful journey filled with simple yet tasty meals that will leave you craving for more.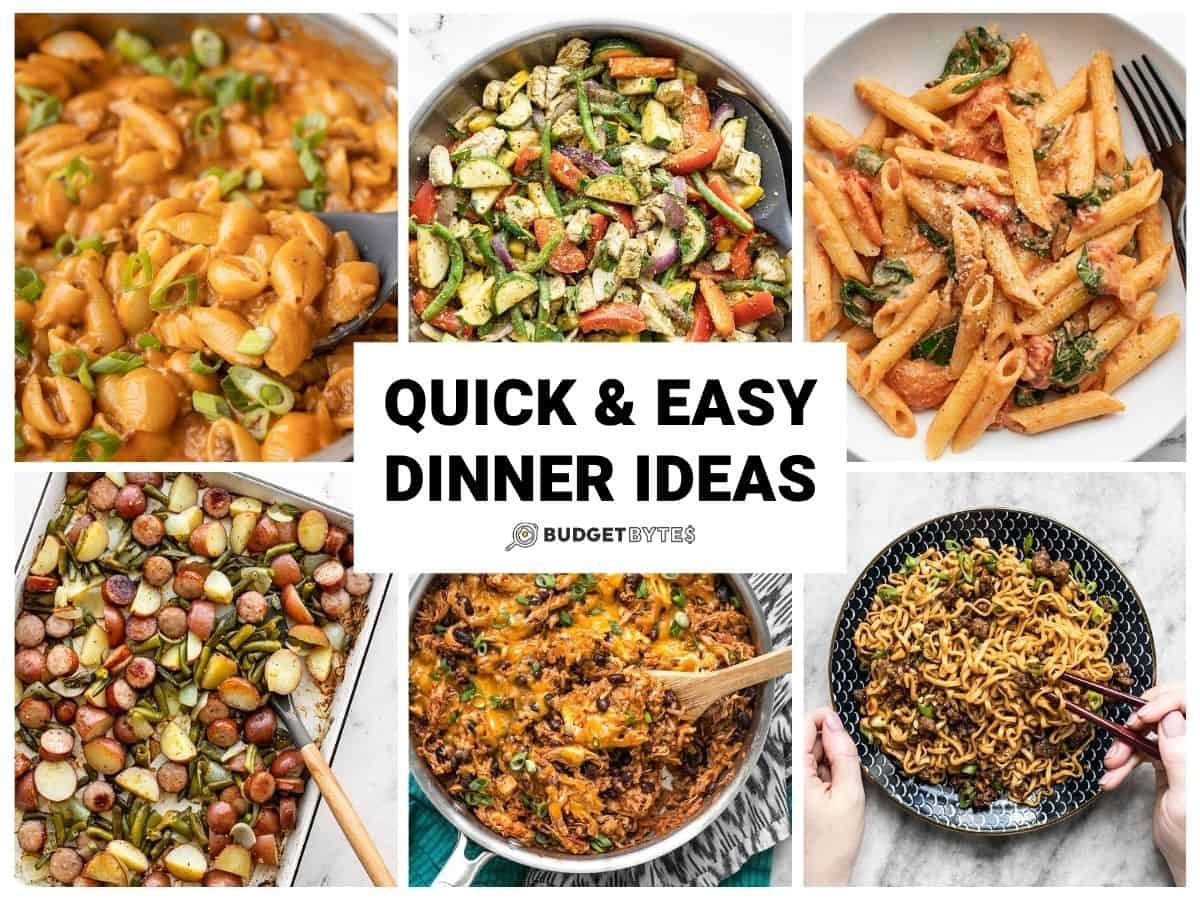 This image is property of www.budgetbytes.com.
Prepping and Storage
Keep Herbs Fresh for Longer
One of the biggest challenges when it comes to cooking with fresh herbs is keeping them from wilting and losing their flavor. But fear not, because there's a simple hack that can help you keep your herbs fresh for longer! All you need to do is place your herbs in a jar or glass filled with water, just like you would with flowers. Cover the herbs loosely with a plastic bag and store them in the refrigerator. This way, the herbs will stay hydrated and maintain their freshness and flavor for a much longer time.
Slice and Store Onions
Onions are a staple ingredient in many dishes, but sometimes you only need a portion of an onion and want to save the rest for later. Instead of leaving a half-used onion exposed in the fridge and dealing with its odor, try this handy trick. Simply slice the onion as you normally would, place the slices in an airtight container, and store them in the refrigerator. This way, you'll have pre-sliced onions readily available for your recipes, saving you time and effort in the kitchen.
Freeze Excess Herbs in Oil
If you find yourself with an abundance of fresh herbs that you won't be able to use before they start to wilt, don't let them go to waste! Freezing herbs in oil is a fantastic way to preserve their flavor and have them readily available whenever you need a burst of freshness in your cooking. Simply chop up the herbs and pack them into ice cube trays. Fill each compartment with olive oil and freeze. Once frozen, transfer the herb-infused oil cubes to a freezer-safe bag or container. These handy cubes are perfect for adding flavor to soups, stews, sauces, and more!
Flavour Enhancers
Infused Oils and Butters
Take your dishes to the next level with infused oils and butters. This simple hack allows you to infuse your favorite oils or melted butter with the flavors of herbs, spices, or aromatics. The process is effortless and the options are endless. All you need to do is heat the oil or butter gently, add your desired flavors, and let them steep for a while. Once cooled, strain the oil or butter to remove any solids, and you're left with a wonderfully flavored culinary enhancer. Use them to drizzle over roasted veggies, toss with pasta, or spread onto bread for an extra burst of flavor.
Citrus Zest
The zest of citrus fruits holds a wealth of flavor that can elevate your dishes in an instant. Whether it's lemon, lime, or orange, zesting is a simple yet effective way to incorporate a burst of citrusy goodness into your meals. To zest a citrus fruit, all you need is a zester or a fine grater. Gently rub the fruit against the zester, moving it in one direction to catch the colorful outer layer of the peel. Sprinkle the zest over fish, salads, desserts, or even your morning oatmeal to add a tangy and refreshing twist.
Homemade Stock Cubes
Stock cubes are a pantry staple, providing a flavor-packed base for a variety of dishes. But instead of relying on store-bought options that may contain additives and preservatives, why not make your own homemade stock cubes? Not only will you have complete control over the ingredients, but you'll also save money in the process. Simply simmer your choice of vegetables, herbs, spices, and even small amounts of meat or bones in water until the flavors meld together. Once strained and cooled, pour the stock into ice cube trays and freeze. These homemade stock cubes will add depth and richness to your soups, sauces, and stews.
This image is property of i.ytimg.com.
Easy Kitchen Tools
Use a Mandoline Slicer
A mandoline slicer is a versatile kitchen tool that can make your food preparation a breeze. Whether you want to thinly slice vegetables for salads, create uniform slices for gratins, or even make homemade potato chips, a mandoline slicer is the perfect tool for the job. Simply adjust the thickness setting, place your produce on the slicer, and glide it back and forth. With a mandoline slicer, you'll save time and effort while achieving consistent and professional-looking results.
Grate Butter for Baking
Baking often requires cold butter, which can be a challenge to incorporate into recipes when it's too hard to mix evenly. But worry not, because there's a simple solution to this problem – grating your butter! By grating your butter straight from the fridge using a cheese grater, you'll end up with small, evenly-sized pieces that blend effortlessly into your dough or batter. This trick is particularly useful when making pastry dough, scones, or any recipe where you want the butter to disperse evenly for a flaky and tender result.
Use an Egg Slicer for Fruits and Veggies
An egg slicer may seem like a one-trick pony, but it can actually be quite handy for slicing other fruits and vegetables too! This humble kitchen tool can quickly and evenly slice produce like mushrooms, strawberries, avocado, and even soft cheeses. The egg slicer's wires slice through the food with ease, providing uniform slices that are perfect for salads, sandwiches, or garnishes. So next time you need to slice a small and delicate ingredient, reach for your trusty egg slicer.
Quick Fixes for Overcooked Food
Reviving Stale Bread
We've all encountered stale bread at some point, but instead of throwing it away, you can revive it and turn it into a delicious accompaniment to your meals. Simply dampen the bread with a little water, wrap it in aluminum foil, and place it in a preheated oven at 325°F (163°C) for about 5-10 minutes. The steam created within the foil will help to rejuvenate the bread, making it soft and flavorful once again. You can also spritz the bread lightly with water and toast it in a toaster or warm it in a pan to bring back its crusty texture.
Fixing Overcooked Rice
Overcooked rice can quickly turn into a gummy mess, but don't worry – there's a simple fix for this common kitchen mishap. All you need to do is transfer the overcooked rice to a colander and rinse it thoroughly under cold water. This will help remove the excess starch that causes the clumping. Once rinsed, return the rice to the pot, add a tablespoon or two of water, cover, and heat it on low for a few minutes. The added water and gentle heat will help to rehydrate the rice and restore its fluffy texture.
Tenderizing Overcooked Meat
Accidentally overcooked your meat and ended up with a tough and dry piece? Don't panic! There's an easy technique that can help you salvage overcooked meat and turn it into a tender and flavorful dish. Simply shred the overcooked meat using two forks, then place it in a pot with some broth or sauce and simmer it for a while. The liquid will help to rehydrate the meat and infuse it with moisture and flavor. You can use the tenderized meat in tacos, sandwiches, stir-fries, or any recipe that calls for shredded meat.
This image is property of img.buzzfeed.com.
Time-Saving Techniques
Microwave Lemon for Easy Juice Extraction
Extracting juice from lemons can sometimes be a challenge, but there's a quick and easy way to get every last drop of citrus goodness. Before juicing a lemon, try microwaving it for about 15-20 seconds on high power. The heat from the microwave will soften the lemon, making it easier to extract the juice. Simply roll the lemon on the counter, pressing firmly to help break down the pulp, then cut it in half and squeeze. You'll be amazed at how much juice you can extract with this simple trick!
Peel Garlic with Minimal Effort
Peeling garlic cloves can be a tedious and time-consuming task, but with this handy hack, you'll be able to peel garlic with minimal effort. Start by separating the cloves from the bulb. Place a clove on a cutting board, then carefully press the side of a knife against it with the flat part facing down. Apply gentle pressure until you hear a slight crack, then remove the skin easily. Repeat this process for the remaining cloves, and in no time, you'll have perfectly peeled garlic ready to use in your recipes.
Quick Homemade Croutons
Nothing elevates a salad or soup quite like a handful of crispy croutons. Instead of reaching for the store-bought options, why not make your own quick and easy homemade croutons? Start by cutting day-old bread into bite-sized cubes. Toss the cubes in a bowl with olive oil or melted butter, along with your choice of seasonings like garlic powder, herbs, or grated cheese. Spread the seasoned cubes on a baking sheet and bake in a preheated oven at 375°F (190°C) for about 10-15 minutes or until golden and crispy. These homemade croutons will add a delightful crunch to your favorite dishes.
Money-Saving Hacks
Make Your Own Spice Blends
Store-bought spice blends may be convenient, but they can also be expensive and may contain additives or fillers. Instead, consider making your own spice blends at home. Not only will you save money, but you'll also have complete control over the flavors and ingredients. Experiment with different combinations of herbs, spices, and seasonings to create unique blends tailored to your tastes. Store them in airtight containers in a cool, dark place, and you'll have flavorful spice blends ready to enhance your dishes whenever you need them.
Repurpose Leftovers
Leftovers often get a bad rap, but with a little creativity, you can turn them into delicious meals that are just as satisfying as the original dishes. For example, leftover roasted chicken can be shredded and used in sandwiches, salads, or stir-fries. Rice or pasta can be transformed into a hearty fried rice or pasta salad. And vegetable scraps can be simmered into a flavorful broth. Don't let leftovers go to waste – instead, view them as an opportunity to get creative and save money while enjoying tasty meals.
Use Vegetable Scraps for Broth
Making vegetable broth from scratch not only adds depth and flavor to your dishes, but it's also a great way to reduce food waste. Instead of throwing away vegetable scraps, such as carrot peels, onion skins, or celery tops, collect them in a bag or container and store them in the freezer. Once you've accumulated a good amount, simply place the scraps in a pot, cover them with water, and simmer for about an hour. Strain the broth, discard the scraps, and you'll have a homemade, nutrient-rich vegetable broth that can be used in soups, stews, and sauces.
This image is property of img.buzzfeed.com.
Cooking for Optimal Health
Steaming Vegetables for Maximum Nutrients
When it comes to cooking vegetables, steaming is a fantastic method that helps retain their natural nutrients and vibrant colors. Steaming vegetables involves cooking them in the gentle heat of steam, which helps preserve their nutritional value while allowing them to retain their crispness and taste. By avoiding excessive boiling or frying, you can ensure that your vegetables maintain their nutritional integrity. Steamed vegetables make a delicious and healthy addition to any meal, so grab a steamer basket and enjoy the natural goodness of vegetables!
Substitute Ingredients for Healthier Options
Cooking for optimal health doesn't mean sacrificing flavor or enjoyment. By making simple ingredient substitutions, you can transform your favorite recipes into healthier options. For example, replace refined flours with whole wheat or almond flour, swap out butter for healthier fats like avocado or olive oil, and use natural sweeteners like honey or maple syrup instead of refined sugar. Small changes like these can significantly improve the nutritional profile of your meals without compromising on taste.
Sneak in Extra Veggies
Getting your daily dose of vegetables doesn't have to be a daunting task. One of the easiest ways to incorporate more veggies into your meals is by sneaking them into dishes where they might not be the star. For example, finely grate zucchini and add it to meatballs or pasta sauces, blend spinach or kale into smoothies or soups, or add a variety of colorful veggies to stir-fries or omelets. By being creative and thinking outside the box, you'll effortlessly boost your vegetable intake while enjoying delicious and nutritious meals.
Easy Cleanup Tips
Line Baking Pans for Easy Cleaning
Cleaning up after a baking session can be a chore, but there's a simple hack that can make it a breeze. Instead of scrubbing baking pans or dealing with sticky residue, try lining them with parchment paper or aluminum foil before placing your ingredients. Not only will this prevent sticking and make it easier to remove your baked goods, but it will also provide a protective barrier for the pan, making cleanup a snap. Once your baking is done, simply lift out the parchment paper or foil, discard it, and give the pan a quick rinse. No more scrubbing required!
Use Foil for Easy Grilling
Grilling can be a messy affair, with food sticking to the grates and the cleanup being a time-consuming task. To simplify the process, try using aluminum foil while grilling. Form a large piece of foil into a tray shape and place it on the grill grates. This makeshift tray will prevent food from falling through the grates, making it easier to flip and remove without any sticking. Additionally, it will catch any dripping juices, preventing flare-ups and making cleanup a breeze. Once you're done grilling, simply remove the foil tray, discard it, and enjoy your perfectly grilled food.
Soak Sticky Pots and Pans
We've all experienced the frustration of dealing with sticky pots and pans that seem impossible to clean. Thankfully, there's a simple solution that can help loosen stubborn food residue and make cleanup easier. After using a pot or pan, fill it with warm water and a few drops of dish soap, then let it soak for a while. The warm water and soap will start to break down the food particles, making them easier to remove. Once soaked, give the pot or pan a gentle scrub with a non-abrasive sponge or brush, and you'll be amazed at how easily the residue comes off.
This image is property of img.buzzfeed.com.
Baking Hacks
Use an Ice Cream Scoop for Perfect Cookies
Achieving perfectly shaped and evenly sized cookies can be a challenge, but with the help of an ice cream scoop, it becomes a breeze. Instead of using a spoon or your hands to portion out the cookie dough, simply use an ice cream scoop. The scoop will ensure that each cookie is the same size, resulting in even baking and a uniform appearance. This trick is especially handy when making large batches of cookies for parties or gifts, as it saves time and ensures consistent results.
Soften Brown Sugar with Bread
If you've ever encountered the frustration of trying to scoop hard and clumpy brown sugar, this hack is for you. Instead of tossing out the hardened sugar or resorting to microwave tricks, try this simple and effective method. Place a slice or two of fresh bread in the same container as the sugar, ensuring that it's well-sealed. The moisture from the bread will transfer to the sugar, softening it within a few hours or overnight. Once the brown sugar has softened, remove the bread and store the sugar as usual. This hack will save you from the hassle of dealing with rock-hard brown sugar and ensure it's always ready to use.
Homemade Self-Rising Flour
Self-rising flour is a common ingredient in many baked goods, but what if you don't have any on hand? Don't worry – you can easily make your own homemade self-rising flour with just three simple ingredients. For every cup of all-purpose flour, add 1 and 1/2 teaspoons of baking powder and 1/4 teaspoon of salt. Whisk the three ingredients together until well combined, and voila! You now have self-rising flour that can be used in recipes calling for this specific type of flour. This hack is not only convenient but also saves you from having to buy a separate bag of self-rising flour.
Timeless Tips for Tastier Meals
Marinate Meat for Enhanced Flavor
Marinating meat is a tried-and-true technique that enhances the flavor, tenderness, and juiciness of your dishes. Whether you're grilling, roasting, or stir-frying, marinating allows the flavors to penetrate the meat, infusing it with deliciousness. The marinade can consist of a combination of ingredients such as oil, acid (vinegar or citrus juice), herbs, spices, and even yogurt or buttermilk for tenderizing purposes. Simply place your meat in a zip-top bag or a container with the marinade, ensuring that it's well-coated, and let it rest in the refrigerator for at least 30 minutes or up to overnight. The longer the marinating time, the more flavorful the meat will become.
Sear Meat for a Crispy Outer Layer
Searing meat before cooking it can add depth of flavor and create a tantalizing crispy crust on the exterior. This technique is particularly effective for meats like steaks, chops, or chicken breasts. To sear meat, start by patting it dry with a paper towel to ensure a good caramelization. Heat a skillet or pan over high heat with a small amount of oil, then carefully add the meat. Let it sear undisturbed for a few minutes until a golden-brown crust forms, then flip and sear the other side. The intense heat of the sear locks in the meat's moisture, resulting in a succulent and flavorful dish.
Properly Seasoning at Each Stage
Proper seasoning is key to enhancing the flavors of your dishes, but it's equally important to season at different stages of the cooking process. Start by seasoning your ingredients as you prep them – for example, sprinkle salt on meat before marinating or seasoning vegetables before sautéing. Then, as you proceed with cooking, remember to season each layer of food as you build your dish. This ensures that each component is infused with flavor, resulting in a harmonious and well-seasoned final product. Seasoning at each stage allows the flavors to develop and intensify, giving your meals that extra deliciousness.
Now that you have a comprehensive list of easy cooking hacks, you'll be well-equipped to tackle any recipe with confidence and efficiency. These tips and tricks will save you time, money, and effort in the kitchen, while also elevating the flavors of your meals. So go ahead and put these hacks to the test – your taste buds will thank you! Happy cooking!